Honduras – A Travel Diary by Massimo Battaglia
Massimo Battaglia, Accademia's Coffee Research Leader, has recently travelled to Honduras for two research projects together with IHCAFE, BWT and CDR Food Lab.
This is a diary of a travel to one of the most important coffee producing countries: Honduras. It's a story of people, faces, landscapes, aromas, colors and activities that we have experienced in this trip. All the people of this story are mentioned with their first names. At the end of this diary, you'll find their full names and roles.
This trip served as a starting point for two research projects, that Accademia will carry on in 2023 with Ihcafe: the analysis of water used for processing and cupping together with BWT; and the measurement of sugars and acidity level along the coffee processing chain, together with CDR Food Lab.
"This wasn't my first trip to origin nor to Honduras. I've visited Honduras many other times, but it was the first time for my travel companions, and I must say that I have felt the same emotions and sensations I had on my first visit to a coffee plantation. Then, I only knew coffee as a drink, and I could not expect how much knowing how coffee is produced would change my work life, and that thanks to coffee I would have known incredible landscapes and amazing people, passionate about their country and its main product – coffee.
Day 1 – We got to San Pedro Sula and met Carlos at the airport. He has been our guardian angel for the whole trip. Together with our driver Denny and our photographer Allan, he has accompanied us all along our Honduran trip.
Carlos is a long-time friend, a brother and a very skilled coffee technician, with great expertise of agronomy and processing, and a huge knowledge of his country and its people. With him, we visited Ihcafe headquarters in San Pedro Sula, specialized in quality control and water and soil analysis.
This first day was the day of the presentations and handshakes, the two project teams came to exist and the research activities were defined. A day to meet old friend, exchange information on processing water, old and new processing methods, new diseases, climate change, and try new coffees.
Ramon, Head of Quality Control, was thrilled as he was introducing us to his newborn, when he showed us the latest coffee variety developed in Honduras to contrast climate change: Parainema. Parainema unites the high resistance to rust and a good cup quality and represents the future of Honduran coffee culture, as it is perfect for the so-called bajillo areas – located between 1000 and 2000 masl.
Sergio met with Allan, key person of the water project in Honduras, who will take care of the analyses of water springs used for processing and cupping.
Days 2-3 – In the afternoon we travelled to La Fe, and visited Ihcafe's Research and Development Center "Jesus Aguilar Paz", specialized in cupping, processing, weather warning, genetics and disease diagnostics.
Here, surrounded by the quiet of coffee plantations, we have dedicated two days to the training of Ihcafe's staff on the use of CDR Food Lab's equipment, that will be used to measure sugar and acidity levels of coffee cherries and processed coffee. Sara and Gabriele met Glenda and Christian, the two contact people for the research project.
Sergio kept analyzing the water used at the La Fe center, discovering that the water used for cuppings and tastings are usually very low in minerals. This can often results in a partial coffee extraction. As a consequence, often coffee buyers find significant differences between a coffee cupped at origin, and the same coffee brewed at home.
What we found particularly interesting at the La Fe center is the presence of small agricultural and breeding farms –  livestocks and floricolture among the others – to encourage local farms to diversify their activity and production. Ihcafe's attention for small rural organizations is real and tangible.
Day 4 – We left La Fe and travelled to Copan Ruinas, where we visited Finca Santa Isabel – a fully integrated plantation, where coffee is grown, processed, exported, but also roasted for the local market.
Finca Santa Isabel was founded in 1951 by Raul Welchez, and it's now run by his son Juan Angel. Over the years, it has mastered techniques and improved drastically the quality of its coffees, and now grows and exports only high quality beans.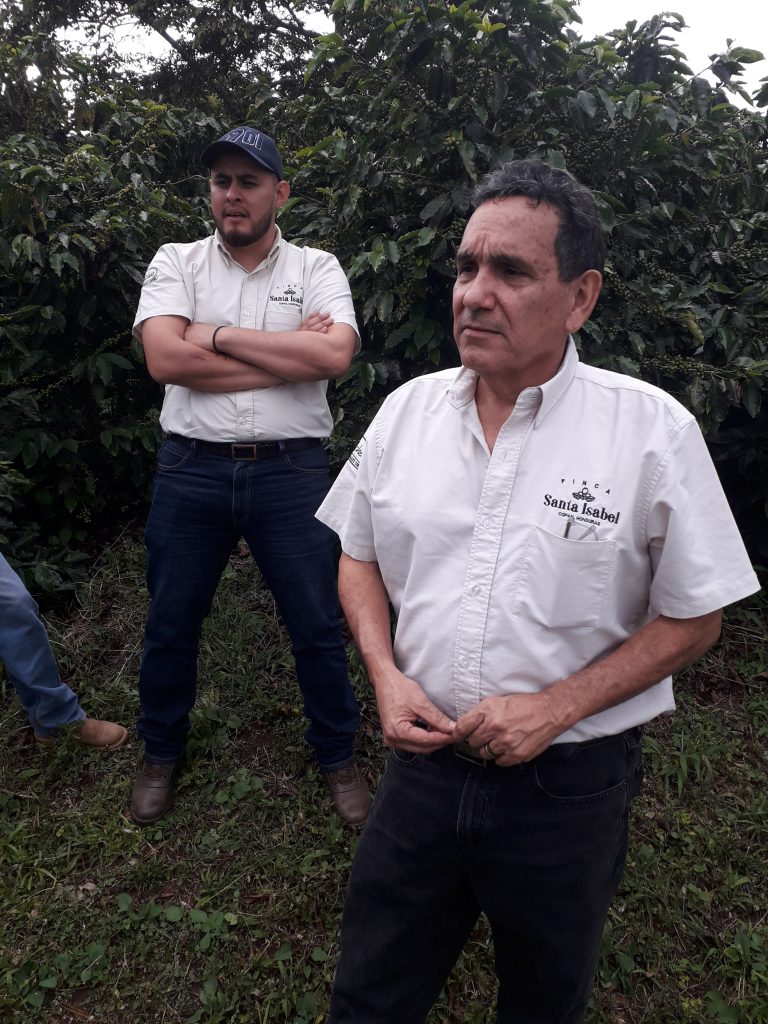 It's an example of a virtuous coffee plantation, where not only coffee is grown, but sustainability is carried forward with daily actions, that safeguard soil, water springs and forest.
Visiting a coffee plantation is a breath-taking experience, expecially now – at the beginning of the harvesting season – when coffee trees bear cherries, and the plantation is full of pickers with their colorful buckets, and on the streets full bags of ripe cherries wait to be carried to the local beneficio for depulping.
Day 5 –  A day in the city. In Santa Rosa Copan, we visited many coffee shops. Thanks to the education and barista trainings provided by Ihcafe, down the colonial streets of Santa Rosa, it's possible to find incredible espressos.
During the trip to Corquin, where the day after it would have been officially opened a new coffee academy by Ihcafe, our team visited the Aruco Cooperative – extremely interesting for the Honduran coffee context. Aruco specialized in fact in natural coffees, a new trend fro the Honduran coffee colture, where washed coffee have always been the leading product.
Founded in 2006 by a cooperative of 14 producers of the Corquin area, Aruco was among the first organizations to invest in microlots of natural and honey-processed coffees, thus allowing the over 250 associated producers a better access to the market and more diversified offering.
Days 6 and 7 – Ihcafe inaugurated the new Corquin Academia Centroamericana de Cafè (ACCA), that Accademia del Caffè Espresso supports as technical partner.
The Academia Centroamericana is one of the first SCA-certified centers in Central America, and belongs to Escuela Superior del Café di Ihcafe, the official coffee education center of Honduras.
Accademia del Caffè Espresso has been partnering with Ihcafe since its inception, and over the years have been carried out several trainings and update moments to talk about coffees and equipment. The technical support to the newly opened Academy underlines Accademia's wish to connect more and more with origin countries and to act as a bridge between producers and consumers.
In Corquin we met Claudia, Pedro and Napoleon, and with them we have spent two days in their campus and facilities, sharing expertise, laughs and dishes of pasta. Somos una grande familia.
After the opening event, we visited Finca Terrerito in Copan. Finca Terrerito chose to produce just specialty coffee. It's a family-run business, now lead by the fifth generation of the family. Today, Finca Terrerito is run by Al. He emigrated to USA when he was only 16 in search of a better life. After having worked as a newspaper boy and served as a Marine, he started working in the Food&Beverage Industry, and he soon realized that the coffee grown by his family in Honduras had a huge potential for the US market.
That's when he decided to go back to Honduras, invest in the family business and create a highly integrated business, that grows, processes, exports and roasts coffee. Al Lopez has started his own roastery – Alma Coffee in Portland. Un pequeno que se volviò grande.
Day 8 – We left the sweet hills of Corquin, to visit Finca Montecristo, one of the longest-standing coffee farms of Western Honduras and one of the first to organize tours of the coffee plantations, thus promoting the local coffee colture. An unexpected experience – a visit through the coffee plants riding a horse that gave us a new perspective on coffee.
We ended the day with a very local dinner, prepared using only ingredients grown by the finca itself. Finca Montecristo provides its workers and the inhabitants of the village with a school and a healthcare center, thus fostering social sustainability.
Day 9 – On our way to San Pedro Sula, we stopped at the cocoa cooperative Coagricsal, and witnessed the whole processing process of cocoa beans: from harvest to pressing and packaging of chocolate bars.
We were hosted by Juan who manages the cooperative. He pointed out that cocoa can have an important role in coffee farms as well: depending on the height of the cultivation, coffee can in fact be integrated in a varied agricultural ecosystem, where cocoa is grown in lowlands (600masl), robusta coffee at 900masl and arabica coffee at high altitude (above 1200masl).
Carrying on on our trip to the airport, we stopped at a coffee shop in the middle of the countryside, where we found a La Marzocco Strada MP and a skilled young barista, that served us great espressos and cappuccinos. The magic of coffee.
Now we are back in Italy, and we are fueled by the many people met and memories made in Honduras, and thrilled for the two projects that have just started."
Massimo Battaglia, Coffee Research Leader Accademia del Caffè Espresso
Carlos Lara, Head of Academia Centro Americana de Cafè Ihcafe
Denny Cano, Driver Ihcafe
Allan Ernesto Mejia, Cupping Technician, Photographer, Translator Ihcafe
Ramon Reyes, Cupping and Quality Control Lab Coordinator Ihcafe
Sergio Barbarisi, BWT Italia
Allan Erazo, Water and Soil Lab Coordinator Ihcafe
Gabriele Casini, CDR Coffee Lab
Sara Banfi, CDR Coffee Lab
Glenda Estevez, Lab Technician Ihcafe
Diana Herrera, Lab Technician Ihcafe
Christian Lizardo, R&D Coordinator Ihcafe
Claudia Molina, Trainer ACCA Ihcafe
Pedro Mendoza, President Ihcafe
Napoleon Matute, Technical Manager Ihcafe
Juan Orlando Hernadez , President Coagricsal